MAP-SCHEME OF TOURIST OBJECTS OF CENTRAL KAZAKHSTAN (50*71)

A new edition of the map of Central Kazakhstan has come out, just like the previous one, it had been elaborated by "Avalon" HGS by order of Department of tourism and sport of Karaganda region.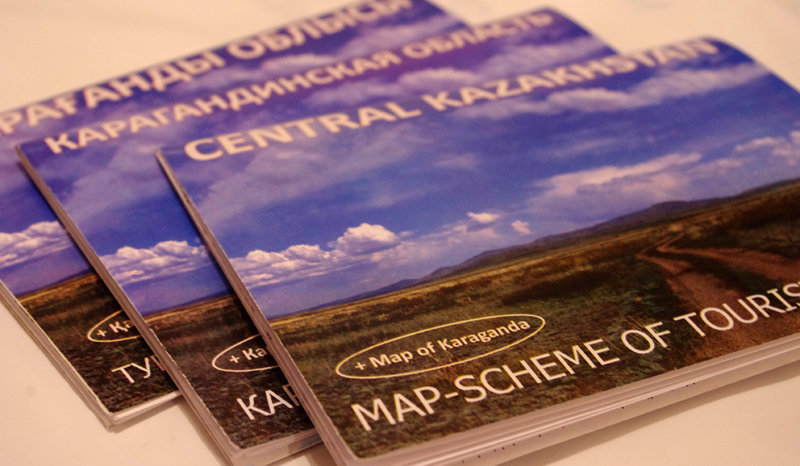 Unlike the previous editions, this map is considerably bigger in its size and, as a result, more detailed. The map contains coordinates and descriptions of 48 tourist sights of the region (20 more in comparison with the previous edition), which are now accompanied with the respective pictograms that make the search for sights more convenient. Moreover, new version of the map provides references to all protected areas of the region, filling stations and airports, as well as numerous steppe roads, which may be of interest for a traveler. It is also supplemented with coordinate grid and an overview map of Kazakhstan. One of the distinctive features of this version is its duality: alongside with the map of region it contains a schematic map of Karaganda city centre. The latter has also been updated and improved, which made it more convenient to use.
The map has been issued in 3 language versions: Kazakh, English and Russian. Its dimensions are 50x71 cm – when spread out, 12,5x17,5 cm. – when folded-down.
The new map is already on sale, it may be purchased directly from "Avalon" HGS in the organization's office, as well as in selling spots of its partners in Karaganda and other cities of Kazakhstan. The map will also be available free of charge at the Kazakhstani and international travel fairs, in which Karaganda region will take part.
English and Russian versions of the map are available for sale at the following prices:
- retail sales: 400 KZT,
- wholesale: 350 KZT and lower (depending on sales volume).
Members of "Avalon" HGS are granted 30% discount for purchasing the map.
Please bear in mind that by buying this map you support our activities aimed at ecotourism development in Central Kazakhstan.