'The bronze ring of saryarka' archaeological route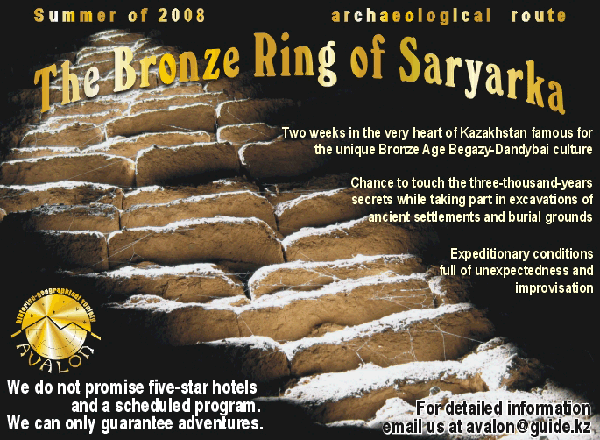 PROGRAM SUPPOSED
The route does not provide for a strictly fixed and timed program because a real adventure is a rational mixture of circumspectness and improvisation. However, we can shortly describe what will be included in this archaeological expedition covering the lands of Central Kazakhstan which have been bearing the mysterious name Saryarka since olden days:

- visiting ancient settlements and barrows of the late Bronze Age belonging to the Begazy-Dandybai culture, such as Tegiz-zhol, Bugyly, Begazy and Kent (by microbus);
- participating in current excavations in one of the settlements together with Kazakhstani archaeologists (3-4 days), most likely in Tegiz-zhol or Kent (the schedule of the excavations is being confirmed at the moment);
- visiting museums of local lore and archaeological museums in Karaganda, Temirtau and Karkaralinsk;
- review tour of Karaganda;
- visiting natural sights such as the highest point of the Kazakh Melkosopochnik Ц the Aksoran mountain (1565 meters), as well as the Kent and the Karkaraly mountains.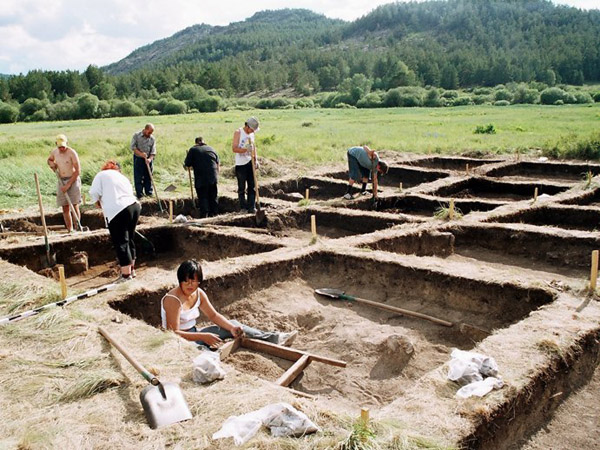 ROUTE*
Karaganda City Ц Temirtau Town Ц Tegiz-zhol Archaeological Complex Ц Karaganda City Ц Bugyly Mountains with the ancient settlement of the same name Ц Aktogai Village, Begazy Barrow Ц Kyzylarai Mountains with the Aksoran Peak Ц Kent Mountains and the ancient settlement of the same name Ц Karkaralinsk Town Ц Karaganda City.
*may have some insignificant alterations
TERMS AND LENGTH OF THE TRAVEL
The travel will last two weeks (the trip to Karaganda and backwards is not included), from the 27th July to the 10th August, 2008. On the whole the route will cover about 1000 kilometers.
ADMINISTRATIVE AND TRANSPORTATION MATTERS
The route starts and finishes in the city of Karaganda (Central Kazakhstan) where there is an international airport. It is necessary for us to know from what country and city the tourist is, so as to suggest him the best variant of his arrival to Karaganda.
We may organize the invitation in case it is required to obtain the visa.However, it should be noted that there is a very simple order of obtaining the visa in Kazakhstan for citizens of most countries all over the world. Visa is issued by Kazakhstan embassy abroad on application of a foreign citizen, with the photographs and consular fees attached. For more specific information we need to know what country the tourist is subject of.
COST OF PARTICIPATION
The cost of participation in the action is $738 per person (provided that the group consists of 4-5 people). This sum includes accommodation (apartment in the city, place in the tent in field condition), meals, any transportation by microbus within the route, as well as meeting and seeing home, guide-interpreter services (English speaking), obtaining all necessary permits and passes, museum tickets.
In addition, we may organize visa support if required, which will cost $50 per person.
The sum quoted does not include trip to Karaganda and backwards.