NOMADIC TRAVEL KAZAKHSTAN
IS THE BEST ECO TOUR OPERATOR IN KARAGANDA REGION

On 22 September, 2012 at the ceremony of the World Tourism Day, "Nomadic travel Kazakhstan" company was awarded  the title of "Best eco tour operator". The letter of gratitude from the department of tourism and sport of Karaganda region was given to Yelena Kim, deputy director of the company, for company's contribution to the development of tourism in the region.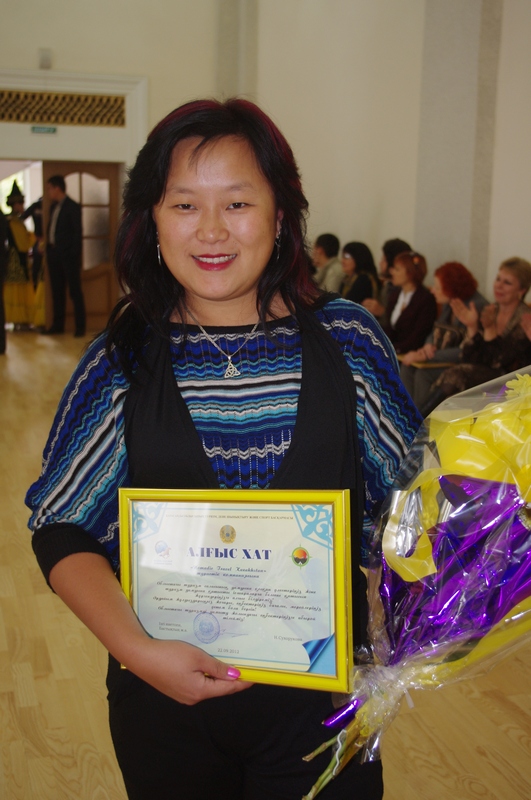 "Nomadic Travel Kazakhstan" was founded in 2009 in the framework of the project "Ecological tourism and public awareness in Central Kazakhstan", which was brought into life by Nature and biodiversity conservation union of Germany (NABU), Karaganda Ecological museum and "Avalon" Public Foundation. It organizes tours of different kind in Central Kazakhstan and is a leading company in the field of domestic and inbound tourism in Karaganda region.
Mountain and forest oasis of Kyzylarai is one of the most popular travel destinations most ecotours of the company are based on. Tourists may stay in guesthouses of Shabanbai Bi village, familiarize themselves with the lifestyle of local residents, as well as their delicious national cuisine. They may go on walking tours in the Kyzylarai mountains, as well as ascend Aksoran, the highest mountain in Central Kazakhstan (1565 m.). Foreign guests have a chance to enjoy historical and cultural tours, which include visits to Begazy burial ground (Bronze age), petroglyphs of Zheltau and stone statues of Turkic period.
Photo: Vitaliy Shuptar