THE TIME OF JOLLY MISSIONS,
OR COMBINING BUSINESS AND PLEASURE

HOSPITABLE TARAZ
(Taraz City)

I always believed that only hearty eastern hospitality, which cannot be compared with anything, and firm belief that you live in the most interesting place on earth will help Kazakhstan become a popular tourist direction. Unfortunately, this combination is very rare, but once I was lucky to meet people who absolutely conformed to my idea. It happened during my trip to Taraz, one of the oldest cities in Kazakhstan lying in the foothills of the Talasskiy Alatau on the Silk Road .
We went there by Spanish train Talgo, in a cozy compartment of which Dima and I celebrated with beer the first anniversary of our geographical society foundation.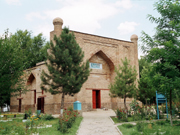 Karakhan mausoleum
The next morning we received a fine welcome in the regional department for enterprise and industry, more precisely in the local department for tourism development whose head Almaz turned out to be an uncommonly heart host and a good company. First of all, Almaz and his friend acquainted us with the local cuisine, having decided reasonably that one may absorb intellectual impressions only after tasting material food. Then followed the excursion of the city and the outskirts, during which we observed all most popular local sights: Karakhan and Dauytbek mausoleums, Tekturmas complex, Kali-Yunus baths and, certainly, Aisha-Bibi and Babaja-Khatun mausoleums, ranking first among the remarkable places in the Zhambyl Oblast.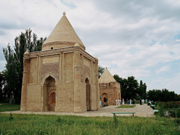 Aisha-Bibi and Babaja-Khatun mausoleums
The history of Aisha-Bibi and Babaja-Khatun mausoleums is rather a legendary sphere than a historical one. Nobody knows exactly who was the girl named Aisha-Bibi and whether she existed at all. However, the legends tell of a beautiful girl Aisha, beloved by a courageous warrior Karakhan (that very Karakhan who is the legendary founder of the famous dynasty of Karakhanides, and in honor of whom the mausoleum had been erected in Taraz itself). Acting contrary to her parents' will, Aisha went to her sweetheart to share sorrow and joy of his battle. But they were not destined to meet for Aisha died of a snake bite on her way. The second mausoleum, according to the legend, was built for Aisha's nurse who set off for a risky journey with her dear pupil, and for the rest of her life had been looking after the girl's grave after she died.
The mausoleum could not certainly remain intact up to our days. So many events had happened in the lands of South Kazakhstan for the last thousand years, not all of them peaceful. And, what had not been ruined by man was destroyed by time. Thus it came out that in the late 20th century contemporaries could observe in full measure only the western part of the building with two angle towers and small pieces of the northern and eastern walls. What we can see now was made in 2005 by efforts of restorers who recreated Aisha-Bibi mausoleum in its former magnificence.
The decoration of the mausoleum can be viewed up for eternity. Over 60 types of terra-cotta slabs different in shape and ornament were used to design the walls; they are laid in the form of various patterns, somewhere geometrical, somewhere floriated.
Scarlet roses growing around the mausoleums create a more romantic atmosphere, and there is an indisputable tradition among the local newly married couples to come here during their wedding party.
After the wide excursion, closer towards evening, in the tourism department, Almaz gave us a lot of useful information and beautiful photographs. What struck me more was the story about one of the most mysterious places in the Zhambyl Oblast – the ruins of palace complex Akyrtas. No scientist can say for sure what was its destination, or who and when built it. Some people consider that there was a Buddhistic or Nestorian monastery; others believe that the palace was built by the Arabs. There are even those drawing parallel between Akyrtas and Egyptian pyramids and other famous monumental constructions of the ancient times. The comparison with the Egyptian pyramids is not occidental for stone blocks which were used in building Akyrtas, as well as the whole size of the complex, strike by their cyclopean immensity. Akyrtas has always been a legend, and even in the Middle Ages people were at a loss when thinking whether these magnificent ruins were the remains of something. Some mystery has always been peculiar to this place.
After absorbing all the mass of interesting information and mysterious impressions which told unambiguously that we were in the very old place at the moment, we had to act against our conscience, bade farewell to our friends and set off for the railway station.
If the road to Taraz and our sojourn there were marvelous, the way back to Karaganda will remain in my memory for long, but for another reason. It became like a negative of our stay there. It was then that I felt it on my own back how madly crowded is the southern direction in summer. It happens from year to year, and no one cares about this, as if the situation was convenient for everyone. As if the state (more precisely, Kazakhstantemirzholy Company) did not need money that would be paid by passengers sitting in extra cars. As if the state were longing to give this money to dirty-handed conductors who come into a fortune by their illegal business.
With great difficulty we managed to get into a carriage with numbered berths, the train to Astana, the price exceeding that of the compartment ticket. The conductors were masters of the situation, and therefore based the prices upon their perverted imagination. Despite expensiveness we were not given any berths, as all of them had been stuffed including all luggage racks and even the conductors' compartment. For the first time we had to go by train standing on our feet. Of course, the world is not devoid of kind people, and we had a chance to make sure of it very soon.
I remember a young nurse from Tashkent who let us lie down on her berth. And while Dima exhausted by long standing and sitting on the edge of the berth, was sleeping she and I were sitting right on the floor and talking about everything about half a night. I remember a guy who got down from his berth and proposed that I lie down on his place, aware of my distress. My belief that the best people on earth are met while traveling once again was strengthened. Though, I would certainly like it to be strengthened in some less exhausting conditions.