THE TIME OF JOLLY MISSIONS,
OR COMBINING BUSINESS AND PLEASURE

SHASHLYK AS A COMPENSATION
(Shymkent City)

In Shymkent where I got from West Kazakhstan I was waited for by my girlfriend and main helper in all my affairs – Lena . Meeting her recompensed for many negative moments connected with this city.
If you think over everything Shymkent abounds in than you realize that the only point to settle on undoubtedly is shashlyk. Surely, such an impression could not have appeared unreasonably. It was caused by several motives, namely one huge problem of Shymkent residents – their desire to enrich thanks to everyone and everything, usually by illegal or unethical means. To tell the truth, I am not vindictive, but when six days on end they try to cheat you, this apparently seems tendency, and moreover, not a very good one.
The most perceptible were the fakements with apartments; as a result, every time we had to look for something else. I should say that we changed three (!!!) places within 6 days. The situation with the lodging in Shymkent aroused storm of my indignation for several times. Another reason was that hotels in Shymkent simply adore 'stars', and the more stars, the better (irrespective of the real situation). I myself remember at least three hotels looking as dormitories with shabby walls and dirty yards, three or four stars shining on their front or advertisements.
What I understood in Shymkent is an oracle: one should not take on trust what is said. Everything should be checked and re-checked there. Because local people are, as one of my university mates said, 'apt to hyperbolization and fantasy'. Thus, for instance, one of Shymkent cinemas is absolutely sincerely considered and claimed by the natives as 'the largest in Kazakhstan', whereas it is far from such a championship in reality.

In each Kazakhstan city I visited I was interested, among other things, by detailed description of orientation within the limits of the locality. Usually in two days I had an approximate map of a city in my head, consisting of cobwebs of streets, names of districts and other topography. This was as such everywhere except Shymkent whose stupid layout struck me with its anomaly and disorder. It is nowhere that you can meet such a great number of houses without numbers as a principle. But even if the numbers are present, it is not worthwhile deluding yourself by it for on the opposite side of the street the numbers of the houses may differ in dozens. There is no other place with such a great number of toponyms which do not correspond to reality. If, for example, you are told that buses to Aksu-Zhabagly go 'from the lake', do not even try to look for a lake, it is absent there. And I will not be surprised if it has always been absent there. I have such a feeling that irrationality of layout peculiar to eastern cities is inherent in Shymkent in a modern way. Of course, there are almost no small crooked streets and dark lane-passages left, but there are more than enough possibilities to get lost or fail to find what you are looking for.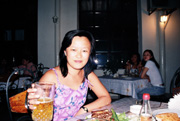 Shymkent shashlyk with Shymkent beer
But it would be unjust not to mention some positive moments in visiting Shymkent. Firstly, secondly, and thirdly, it is shashlyk, the price of which here (especially for me, a citizen of Central Kazakhstan) was unbelievably low, while the taste struck by its height. Shymkent is a paradise for gourmands of such type, if you take into account the fact that 'gourmet' in French is nothing but 'glutton'. For some evenings on end we literally rolled out of cafes, breathing heavily and speaking with some difficulty, but I could not let myself leave even one piece of meat uneaten.

Another pleasant moment in coming to the city was acquaintance with Lena's penpal Max who, despite I simply expected some snares from him, did not ever leave us disappointed, granting (or trying to grant for we had not much free time) us all the honors that usually wait for the travelers in the East. What is indicative, it turned out later that he was not native, and had lived just a couple of years in Shymkent.
One more thing Shymkent is valuable for is its outskirts. Aksu-Zhabagly Nature Preserve, ancient Sairam, West Tien Shan mountains with the Sairamskiy Peak , Kazykurt Mountain legendary for the Kazakhs and lots of other significant places surround the center of South-Kazakhstan Oblast and attract masses of tourists here.