THE TIME OF JOLLY MISSIONS,
OR COMBINING BUSINESS AND PLEASURE

DO NOT ARGUE WITH LONELY PLANET!
(Aktobe City)

In the spring of 2005 I met a quotation in the Internet taken by someone from a guidebook Lonely Planet Central Asia written in English, where Aktobe was said to be 'a boring industrial city which does not represent any interesting'. We had better take this on trust, but we decided to make sure of it. Thus, in the middle of May my friend Sanya and I got to the railway station of this rather large inhabited locality.
Really, despite its rather venerable age (Aktobe was founded in 1869) the city looks too up-to-date, but in a Soviet way. Featureless frames of houses, poor vegetation, industrial plants… Frankly speaking, I cannot even name without thinking an interesting sight of Aktobe, though in spite of myself the word 'Nurdaulet' comes to my mind.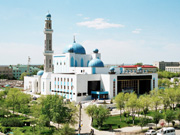 Nurdaulet
Indeed, if Aktobe residents were asked of the local sights, every single one would answer 'Nurdaulet'. But what is it? It is an interesting combination of seemingly incompatible things: the trade center neighbors with the mosque here, supplemented by bowling and fast-food cafe. I should say that a lot of local Muslims were not very satisfied with the idea of this neighborhood. But I know that someone quick-witted contrived to draw a parallel between the present time and the Middle Ages and recalled a well-known fact that bazaars in ancient cities were built next to mosques. The people liked this idea, and the debate concerning the vicinity of the material and the spiritual has not been held ever since.

They are also proud here of their famous country-woman, Aliya Moldagulova who was born in the Khobdinskiy District of the Aktobe Oblast. In the city, besides the street and museum named after this prominent sharpshooter there is the market also called 'Aliya', evidently in honor of hers.
On the square in front of the Oblast Akimat rises the monument to Abulkhair Khan prancing on the horse, his back turned to the building of the akimat. Maybe, Abulkhair does not want to look at people who do not always understand that what is good for his land. Despite mediocre condition of tourism in the region, an impression is formed that no one worries about this.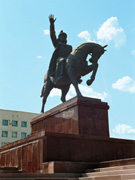 Abulkhair Khan monument
The department of tourism in Aktobe akimat could be well included in some public body concerned with the matters of national security. So strong was the reluctance of the personnel to reveal the 'secret information' on location of the tourist objects of the oblast. This was explained by their concern for the safety of such sights as the meteorite crater Zhamanshin or Abat-Baitak mausoleum. Foreign tourists (in my opinion, quite undeservedly) seemed to the state officials to be like vandals who come to that very Zhamanshin with the only purpose to take as many rare tektites away from there. More persevering and inventive than their Kazakhstani counterparts, tourist agencies from Russia that guide the tourists seemed greedy and unprincipled merchants who are not interested in anything except money. But is there anything else that can interest business men? And, on the whole, what is Kazakhstan going to develop tourism for? What harm can foreign tourists do, who unlike the overwhelming majority of our people, are disciplined and polite and will not only obey not to collect zhamanshinites (if it is told to them or, which is better, written) but also will not drop a bottle from mineral water or ice-cream cover on the ground?

In general, I drew the conclusion from my visit to Aktobe: if people are longing to spoil a good cause (in our case it is entry tourism which has just begun to develop), no natural or historical sights will prevent them from this. But I desire that it will not last for long.