One million steps for the three of us

Chapter 1. PROKHODNOYS AND OZERNIYS
Chapter 2. THE GREAT WATER
Chapter 3. SNOW AND SUN
Chapter 3. SNOW AND SUN
The third river on our way along the Chon-Kemin surprised us with the presence of a small bridge, and so we sddidn't have to wet our feet once again. However, the rain which began falling from the sky as if there was a special schedule didn't give our boots a chance to have a rest. We passed the Kara Murun moraine and then having reached the fourth river (Orto-Koy-Suu) we turned away from the Chon-Kemin and set out towards the Kok-Airyk pass just as we had been told to do.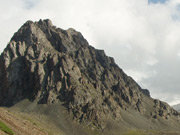 On the way to the Pass
Any hunting is prohibited at that territory, therefore the animal world became more diverse at once. We were fed up with marmots and they didn't arouse Sasha's initial ecstasy. The scenery also changed little by little. Step by step it looked more like what we see in movies about the Southamerican Andes. But we saw golden eagles instead of condors. We ran against a nameboard 'Burkut uya' ('Golden eagle's nest' in Kyrghyz) as if it was a confirmation. Obviously it was the name of a rock which in fact abounded in caves at a big height that could be perfectly used by golden eagles as homes.
There were snow and heavy clouds hanging over it to the left and to the right. We found the first and the second trailers we were also told by the Kyrghyzes about. Since the time the Cholpon-Ata-Almaty road was constructed there had been a lot of different equipment left and there are even several construction trailers which have been used by tourists moving over the pass as a shelter when the weather was bad for many years.
We settled in the more home-like right part of the second trailer with all the walls covered with notes of such travellers as we were. And we came across some very interesting examples like '28.02.2003. It has been snowing for three days, the pass is filled up. We have nothing to eat'. And somebody even drew a whole picture representing an island with a palm and a girl on the coast seeing a ship sailing against a background of the sun setting. Then some of us noticed that one of the inscriptions telling that somebody had got 'frozen to death' was dated with that day. Later on we met some times the notes of that group of tourists who got as we discovered into a snowfall at Kok-Airyk.
We just began settling down at our new home when Zhenya went out and cried to Sasha to run to him with a camera. And our not quite young naturalists devoted themselves to shooting the animals. That time mountain goats – marals or roes that were grazing on a heel at the other side of the valley got into the field of their vision.
In order to join the community of the around-Tien-Shan travellers we decided to make an inscription on a wall the trailer immortalizing the fact of our being at that hospitable place. Right at the entrance to the left of the table a seal of our historico-geographical society was attached and the precise GPS coordinates of that place were written down.
In the evening all the food was done away with or left for those who could get into the trailer after us. We were just bound to get to Issyk-Kul the next day.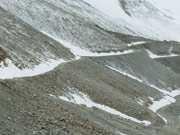 Winding road to Kok-Airyk
A strong wind had been blowing all the night long and it had been snowing heavily, so the following day the mountains surrounding our refuge greeted us with sparkling whiteness.
The morning began with conquering the pass. The road to Kok-Airyk is a big serpentine sometimes leading one away to a kilometer's or longer distance from the purpose. Such road forces a man to try to climb cutting the way and we did that from time to time. However, there were it was difficult to pass even along the serpentine. At one place the road was completely blocked and the talus (in addition to its steepness) was evidently the latest as the stones underfoot were just moving including even very big boulders. To crown it all, some weighty stone rolled down from above periodically and carried along a lot of the like. I'm sure that each of us had a good time to think of many serious things while getting through the talus.
Sunglasses in the mountains are a really indispensable and obligatory to be taken. Sashahalf broke his glasses and so he looks like a pirate having a yawning hole instead of an eye covered with a little sport cap on most pictures.
Kok-Airyk is of course not Everest, it's just a pass which doesn't even have a complicacy category. But nevertheless we were just overfilled with elation and it was expressed in the joint singing of 'We are the champions' at the moment when we realized that we were on the last lap. What a wonderful and unusual feeling it is when you see clouds floating below you.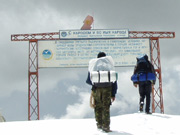 Kok-Airyk Pass (3889 m)
The Kok-Airyk pass is situated at a height of 3889 metres. That was the highest place we managed to get that time. Right at the pass there is an arch with a very optimistic inscription saying that the Cholpon-Ata-Almaty road has been built and international tourism can feel safe here. Probably everyone who reads this inscription after getting to Kok-Airyk from the Chon-Kemin feels skeptic about it. And someone has even shot to the metal Kyrghyz flag placed above the arch.
Zhenya thoroughly made a note on the snow: 'Avalon-Karaganda'. Sasha wanted to make his picture taken naked up to the waist and his wish was fulfilled at once.
We found the signs of our 'frozen to death' friends' stay again in a construction trailer at the other side of the pass. That trailer unlike ours was equipped much plainer and was more blown through by wind. And it was their refuge during the snowstorm. It turned out that they left us behind for about half a day. We couldn't catch up with them at the descent though it would be interesting to talk to them.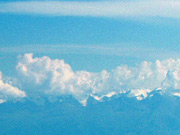 Terskey-Alatoo
mountain ridge
At a height of more than three thousand metres on the descent there is a wonderful view of the Issyk-Kul lake and the snowy Terskey-Alatoo mountain ridge situated at the opposite side of the lake. It is an inexpressible sight.
It took us about three hours to rise to the pass. And we had the time before the evening to go to Issyk-Kul. We decided to go not to Cholpon-Ata as it was farther but to Chon-Sary-Oy – a village we were supposed to find walking along the Orto-Koy-Suu valley. Then the eight hours of burning descending to the lake came.
But even in spite of the fact that we were almost running we couldn't avoid paying attention at the idyllic pictures around: sheep and horses pasturing peacefully without any shepherds, rich green meadows and the mountains framing the valley. On the way we even came across some ancient ruins but, to tell the truth, we had neither energy nor desire, nor time to look at them. We didn't want at all to come to the village at night and knock against something unknown. And another thing was that we awfully thirsted for beer.
When we were quite close to Chon-Sary-Oy we met two Americans who wondered if there was any water in the mountains. They were going to pass over Kok-Airyk and return to Issyk-Kul via the Aksu pass. In fact that was an interesting route. And one of the foreigners was burning with the desire to see wild animals and hopefully inquired if we had seen any wolves or other living creatures above. We disappointed him since we hadn't seen any beasts of prey on our journey (apparently, we were lucky).
I have always thought that beer is a magic drink and in some cases it can work wonders. And it proved to be truth. Having covered a whole day's distance, first upwards and then downwards, (30 km in total) we came to Chon-Sary-Oy almost exhausted. Therefore it seemed to be a magic when at one o'clock in the morning after four liters of beer at the bank of the lake a desire to do 16 km more to Cholpon-Ata aroused in us. All the more, the bank in Chon-Sary-Oy left much to be desired. I was attracted there with the dream to wake up tomorrow at the sandy bank of Issyk- Kul.
We always do what we say. The road was peculiar. I'm still feeling amazed with the attitude of the local inhabitants to the tourists. Everybody comes up to get acquainted, some people even invite to their houses. But it is necessary to mention that most of these fellows were far from being sober. That is why in response to the offers to talk we said a polite 'no' and explained that we came to Cholpon-Ata just for the sport of it. And in about two hours the interest to us was worn out. Nevertheless we had to continue the trip.
We had got to Cholpon-Ata by sunrise. There we set up a tent in an apricot garden and fell asleep. We didn't sleep long. The noise of airplanes flying by and people's hubbub around awoke us. It turned out that people were gathering in the harvest not far from us. After having breakfast we started out in search of a beach, food, a bus station and the police.
Having registered and bought the tickets for the evening we had a meal in an Uygur cafe. We finally relaxed and went to the lake. There as it should be we got bad sunburn and spent a sleepless night in the bus to Almaty in the throes peculiar to sunburns. I took some Issyk-Kul sand as a souvenir reminding that we had achieved the object of our journey.
When we were descending from the Kok-Airyk pass an idea to count how many steps each of us had made and would have made within that six days came to one of our heads. We multiplied the figure by three and after rounding it up we got a very round and impressive figure – one million steps.