All winds blow to kashgar

We get tired of everything: living in spacious and sleek Russia
we are longing for the Caucasus with the snow-white Kazbek,
for the Alps and mountains…
but when the Fortune throws us in such a place
first you admire it, and then it begins to annoy you…
and again you want freedom, the lea, the flat steppe…

Shokan Valikhanov, Travel Notes of the journey to Kuldja, 1856
Preface
Chapter 1. RED MOUNTAIN
Chapter 2. VIA TIGER JAWS
Chapter 3. THE KINGDOM OF SANDS AND FOG
Chapter 4. WITH THE FAIR WIND
Chapter 5. THE ONLY AND UNIQUE KASHGAR
Chapter 6. KASHGARIAN MONDAYS

PREFACE

For many centuries Kashgar like a magnet has attracted lovers of adventures all over the world. Thousands of caravans and expeditions traversed this city, which has been the gate to Tibet and Middle Asia, China and India since olden times. One would pass Kashgar and remember it for the rest of his life; another would fall under its fascination and stay there forever. To tell the truth, we have become ones among many, those who happened to go through these lands and study them.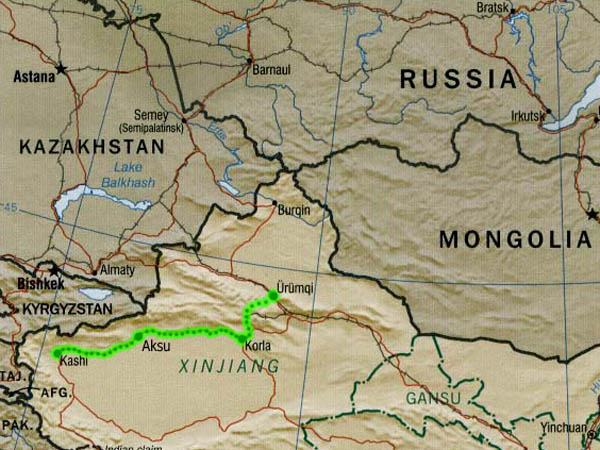 Karaganda – Almaty – Urumqi – Khoushcha – Tiger Jaws Pass, East Tien Shan – Korla – Kuqa – Aksu – Kashgar (Kashi) – Shule – Kashgar – Torugart – Kashgar – Irkeshtam – Osh – Bishkek – Almaty – Karaganda
(August-September 2006)
When traveling, you feel life more contrastingly than in your everyday. Ascents and falls changing each other rapidly are the main rule here. Yesterday you rushed along the road like a rocket, and filled your stomach with stewed goat's flesh; today you sadly drag your bike, moving against the storming wind. You fall asleep in the middle of a desert, a bit of dried bread and a drink of water being everything that remained for supper. In the morning you go under the sun seeking for invigorating moisture; the evening you will spend in a cafe, lots of dishes and goblets with beer on your table. This run of good and bad lucks makes up the very charm of an adventure, which is a small but eventful and in a way independent life.

Such was the life that the two members of Avalon Karaganda Historico-Geographical Society – I, Vitaliy Shuptar and my old friend Alexander Yermolyonok – were lucky to experience, when in August-September of 2006 we decided to rush through one of those adventures which, to tell the truth, constitute the most part of our life. The lands having numerous names waited for us, and even their names sounded fairy: East Turkestan, Little Bukharia, Uighuristan, Altyshar, Zhetyshar, Jungaria, Kashgaria and, strictly speaking, the contemporary name for all these places – Xinjiang.
In spite of the fact that our plan was immediately nicknamed 'Kashgaria – following the tracks of Shokan Valikhanov', our aims agreed with his ones only in the destination – the city of Kashgar, whereas the ways of achieving this very aim were different. But many aspects in his diaries became clearer and closer to us after we have seen and experienced some points described by him ourselves. That is why, considering my admiration of this outstanding investigator of Central Asia and the member of Russian Geographical Society, some extracts from his travel notes I will include in my narration, for they have not lost their relevance up to present day.