THE LAND OF NONRANDOM MEETINGS
OR rINGED BY aNNAPURNA

Chapter 1.
LONG WAY TO KATHMANDU
Chapter 2.
KATHMANDU AND ITS PEOPLE
Chapter 3.
JOURNEY FROM SUMMER TO WINTER
Chapter 4.
BETWEEN TWO SUMMITS
Chapter 5. SLEEPY PARADISE
Chapter 6.
MOVABLE FEAST
Chapter 7.
ACROSS THE HALF OF THE WORLD IN SIX DAYS
Chapter 2. KATHMANDU AND ITS PEOPLE
By all means, Kathmandu implies great culture and history, Buddhist and Hindu temples, variety of palaces and squares. But I love this city for its people. And when I say about its people I mean not only its inhabitants but all newcomers as well. Kathmandu is impossible to imagine without these fortune hunters from all over the world.
There was a Dutchman in our hotel who could be considered a typical European coming to Kathmandu not for a trivial two-weeks' holiday. When we asked how long he was going to stay there, he replied, 'Well, my visa is available during 6 months. Sure, I will miss my family on Christmas, but I will stay here. And my visa can be prolonged after all'. Many Europeans act in this way: they rent out their flat somewhere in Paris or Amsterdam and live comfortably on this money in Kathmandu. Besides, the local price level lets them stay away from work.
Hotel ' Tokyo ' was a typical seedy hangout in Tamel. A group of black men having fraternized with the staff was sitting in the hall all the time. They smoked a lot, and obviously it was not tobacco (it is one more typical feature of a Kathmandu visitor). One more point of interest in that hotel was a nervous lady who played 'concerts' every night. Once her lover's patience was exhausted and we all could hear the sounds of something flying and falling down. As the yells repeated the next night, we concluded that they avoided a lethal outcome.
A special topic is Russian Kathmandu, Russian speaking, to be more exact. People who come from the former USSR make the major friendly part of foreigners here. We noticed it at once observing our Canadians. They hadn't made friends with anyone, though there were lots of Canadians.
The first Russian face in Kathmandu for us was Masha, a charming daughter of the Russian ambassador. I met her on the Internet some years ago. She introduced us to Kathmandu dwellers and learned the town together with us. She admitted that for 3 days with us she had learned more than for 3 years she had lived there. She made an appointment with us in cafe 'Java'. It is a favourite place of local gilded youth. I don't know why Kathmandu 's young people prefer tea and coffee to beer. That is why I made a conclusion that this cafe was not on my taste. Besides that, the prices there reminded me that I did not belong to the gilded youth.
The next 3 days Masha accompanied us. Kathmandu will stay in our minds as a very interesting place mainly because of her.
We were strolling along Kathmandu 's streets. The walk on the King's Square was the most remarkable as we were drinking cold beer while walking. Masha was happy – 'It is just as all the Russians – walking with beer'. On the whole, the Durbar (King's) Square – is the place where many Hindu temples and palaces are located. A special note is sadhu. These are vagrant beggars with make up. In my opinion, they are not so poor as they demand rather good money for taking photos with them. We didn't like this attraction and left all their offers to take photos without any reaction. Forgive us Vishnu and Shiva.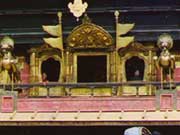 Here lives living goddess Kumari
Next to the Square there is Kumari temple. It is a local living goddess. Kumari is chosen from the girls of a special caste – jewellers. This girl will be a goddess till the first big blood loss. There is an interesting legend saying about one of the possible ways of Kumari tradition appearance. According to this legend, one of the kings was a pedophile and he liked a little girl. As a result of his pressing 'addresses' the girl died. And then the king introduced the practice of the little girl's revival by proclaiming her a living goddess.
The next day we went to Bodhnath – the biggest Buddhist stupa in Nepal and one of the biggest in the world. The area joining Bodhnath is the place of living of Tibet refugees. Besides, there are a lot of Buddhist monasteries.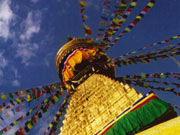 Bodhnath – the biggest stupa in Nepal
We'd spent plenty of time on shopping. Masha, for instance, had to try on lots of saris which Dima wanted to buy as a present for his sister. We'd spent much time choosing the equipment which we couldn't buy in Kazakhstan. The first impression was admiration at impossible low prices for perfect goods. The second impression (after the equipment's usage in the mountains) – the prices are corresponding to the quality. There are great many local falsifications. The most wide spread forgery brand is The North Face.
In the evening before going to the mountains we went to 'Les Yeux' to smoke hookah. Even I, a non-smoker, liked it, tobacco with cappuccino flavour and warm atmosphere of the restaurant… It was so nice, that there appeared a series of photos 'How wonderful Tamel's night street through smoked with hookah eyes'.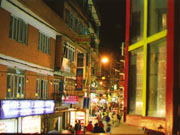 Tamel. In the evening. Les Yeux window view
One more type of Nepal 's visitors is presented with the people coming there for the search of wisdom and it doesn't matter how it is expressed. We met such a person in the supermarket. His name is Sergey. Having spent some time in Osho's ashram, he was going to make a tour round Annapurna. In the end of our journey we met an odd couple from Moscow who got settled in Nepal. They publish Osho's literature in Russian. Most of the time they live in the ashram near Kathmandu and periodically visit Moscow.
There was one more type of Kathmandu 's visitors, and it was the most numerous. You could meet there people hooked on extreme.
For example, Roma from St.Petersburgh had not been at home during 6 years. During his absence his flat was taken from him. But I think Roma does not care. He had crossed the whole East on his bike. Some time ago he got into an accident and hurt his leg. He had taken several courses of antibiotics, all in vain, and now there was a threat of amputation. And instead of hurrying to the hospital Roma made plans of going to Tibet to some lake that he could not visit last time. And I think he'll get there as he has nothing to lose.
Roma's fellow traveller is Englishman John with a sun burnt nose and crazy eyes due to constant hashish consumption. He crossed the whole East, too, and the evidence to it is that he used to have a wife in Mongolia.
The Nepalis themselves are not able to keep such a playful way of life. We met one of them thanks to Masha. Kiran, besides being the chief cameraman and deputy director in Nepal television, was a talented photographer. One could watch his huge photos of Nepal in all its variety for hours. Also he showed us a collection of cameras, beginning with the rare ones which belonged to his father and grandfather. They were court photographers so was Kiran.
In New Road area there is a nice place where Masha brought us. It is 'Chharpro' cafe, where you can taste newari cuisine (newars is the local people in Kathmandu valley). But the salt of this place for Russians is not only in the cuisine but in the fact that one can hear there DDT or Grebenshchikov's songs. The owner's brother had studied several years in St.Petersburgh and fell in love with Russian rock music.
On the whole, I didn't have any difficulties in the way of music. Apparently, the western influence has mixed with Nepalese traditions so much, that I had not heard in the streets anything but good rock and pleasant Nepalese music. But you can't say it about the buses where they play something like Indian songs.
As for me, I don't like to bargain. But in Nepal this action is so deeply connected with adrenaline and passion that even hazard people can't imagine it. The main thing is to speak decidedly that it is your last price and if the seller does not like it, it is not your problem. And then one should go with an indifferent air. But don't go away, just walk around the block. Some time later the seller will come up again and the bargain will be continued. My own record in bargain made 40 minutes and it made the price more than 5 times lower.
As for the people we met in Kathmandu, there were the Russians from Latvia, Pasha and Yulia who made our journey more amazing. Sunburnt and weather-beaten faces of our new friends spoke for themselves. It was clear that we met natural travellers. We agreed to go together round Annapurna at once.
We could listen to them for hours. The stories about their joined or separate journeys agitated imagination and made us understand that we were more like just health-resort visitors in comparison with them. They had travelled in Europe and Asia, Caucasians mountains and Sayan, on foot and by bikes, by an inflatable boat to Athlantic…They got to Kathmandu after they had crossed Mongolia, China (its Tibet part) by bikes and were about getting to India. It took them 3 months to travel in vast deserts and mountains and as their visas'd expired, their vessels were taken away and they had to become pedestrians again.
By this 'lucky' accident we met in an Kathmandu Internet cafe. Though with all those great concentration of interesting people that made a special aura of magnetic journeys, the meeting with this couple could not be accidental. There are some places in the world where all fortune hunters must meet.