THE LAND OF NONRANDOM MEETINGS
OR rINGED BY aNNAPURNA

Chapter 1.
LONG WAY TO KATHMANDU
Chapter 2.
KATHMANDU AND ITS PEOPLE
Chapter 3.
JOURNEY FROM SUMMER TO WINTER
Chapter 4.
BETWEEN TWO SUMMITS
Chapter 5. SLEEPY PARADISE
Chapter 6.
MOVABLE FEAST
Chapter 7.
ACROSS THE HALF OF THE WORLD IN SIX DAYS
chapter 5. SLEEPY PARADISE
Pokhara and its lake Phewa were always in clouds of fog. It looked like a quiet paradise, where people could have a rest after a tiresome journey in the mountains, treating their wounds. Though the silence was broken every evening because it was the very time for Tihar Fire Festival (another name of it is Dipawali). As a result of this Festival every evening the city was lit with thousands of candles. The kids were running to and fro crying, singing and asking for money. The main idea of the song was: Give 10 rupee and sleep peacefully, refuse and listen to free live concert.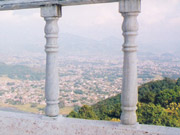 Pokhara city view from the viewing site
Idleness sometimes is quite amusing. Especially, if you have had an active rest before. That is why 3 days spent doing nothing seemed rather a routine. Having had breakfast 'enjoying the view of Annapurna ' (it could not be seen because of constant cloudness), we set off to wander along the city. Our main business was doing nothing but shopping and eating.
Once, however, we decided to explore another bank of the lake, where at the top of a big hill there was a Buddhist stupa World Peace Pagoda. Having refused the guide's service, we had some troubles in finding the right way. We were making our way through bushes and hedges, shooting some various spiders and trying to take pictures of mongooses. But nevertheless, the stupa made a great impression on us. It is a quite beautiful building and its white stairs had harmony with the blue-grey cloudy sky. Usually people get there by a boat reaching the harbour, and then on foot. But we didn't have so much money to be so bourgeois and that's why it took us long time to get home. Yulia could have suffered a lot because she had managed to put on open-toed mules and I believe they are not so convenient for walking in the mountains for a common person from the west. It should be said that the local porters wear only these very shoes. But that is caused more by force of habit. After 40 years of wearing them, I'd probably also run up and down in these flip-flops without any difficulty.
But even in this sleepy paradise you could come across with the news of not paradisial content at all. It turns out that an explosion has recently taken place in Kathmandu. This information didn't make me happy at all and I thought that the entrance to the capital would be even more problematic. Fortunately, my suspicions hadn't been confirmed.
Last evening of our staying in Pokhara the owner of the hotel, which by the way happened to be very nice place named 'Saru', organized a fancy dinner for us. That was the last day of the Festival and obviously they had the custom to feed the guests. Well that evening we didn't just eat much we were stuffed to satiety. Taking into consideration that before Rohit's treating (that was the owner's of 'Saru' name) we had already had dinner and also had taken some food for the evening up to the hotel, his scones, rice and beans were way too much.
Rohit believed in guru, named Sai Baba, who was very well-known person as in India as in Nepal. The picture of him with a good head of curly hair and widely opened arms can been seen everywhere – in hotels, cafes, buses and so on. They say that he is able to materialize different things. I don't know why but he likes expensive watches most of all. They say that ashrams of Sai Baba are the most comfortable and meantime not high-priced (15 rupees a day). But unfortunately, they are situated in India, that's why the way there is contra-indicated for me.
Rohit was meditating for a long time in his room, where he was asked from time to time from. It was kind of embarrassing to bother him with our down to earth requests, but sometimes we had to use phone or internet and that what was he in charge of. And then he came out wearing his fancy golden clothing, covered with dozens of necklaces and with a smile helped us with our absolutely unimportant business (certainly creationwide). As Rohit was telling me in the last evening of our stay, during the hours he was down to earth, he was an ordinary person who could spend ages chatting with ICQ or MSN Messenger. Moreover, the news that I was Ukrainian provoked a burst of emotions. It turned out that he for a long time had been in touch with an Ukrainian girl, who was just alike Lady Diana and that there was almost love between them. So in general, we'd become almost life-long friends. Rohit expressed his feelings by giving a permission to use the internet as much as I liked and for free. That was such a pity that tomorrow we would have to leave Pokhara.
Next day, very early in the morning (it hadn't been 5 o'clock yet) we left for the bus station of Pokhara. It happened that we hadn't bought tickets the day before because of the holiday, and the only way out was to come up to the station early in the morning and to buy the tickets right before departure. That was what we did. The tickets were bought, the bus departed in time and about three o'clock we were driving up to Kathmandu.